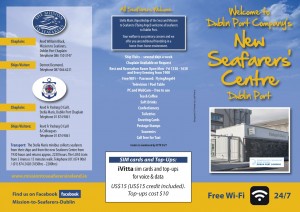 This is our Information Leaflet :
Correction:  IVitta 2.0 Sims and TopUps are $10 or €9 each.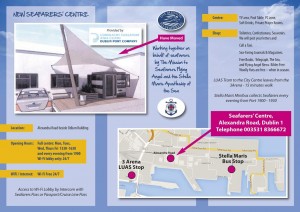 This Leaflet is our main communications tool to Seafarers when they arrive in Dublin Port.
The Ships Visitor distributes this information.
Shipping Agents also inform Crew and often the Dublin Port Pilot will be the first to pass on the good news about the services of the Flying Angel Centre.
The Centre is Open Monday to Friday 1.30pm to 4.30 pm
                            and
Every Evening from 7pm to 9pm.
Telephone: 01 8366672
WiFi Password:  24/7  –  FlyingAngel4
The outer lobby is available out of Opening Hours by pressing the button on the small gate. Port Security will give the Seafarer the Code to enter. The lobby has 24/7 WiFi – Coffee Machine and WC.